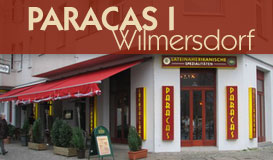 Paracas I
Güntzelstr. 37a
(At the corner of Pfalzburger Str.)
10717 Berlin
Telefon: +49 (0)30 88 66 79 16
Telefax: +49 (0)30 88 20 81 68
Business hours
So, Di – Do 16:00 – 24:00 Uhr
Fr – Sa 16:00 – 01:00 Uhr
Monday is a rest day!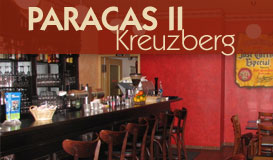 Paracas II
Friedrichstr. 12
(Near Checkpoint Charlie)
10969 Berlin
Telefon: +49 (0)30 25 29 42 66
Business hours
Di – So 12:00 – 24:00 Uhr
Monday is a rest day!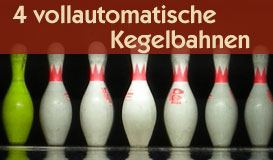 South American hospitality…
Now twice in the heart of Berlin!
From authentic Mexican dishes, about Argentinean steaks and exotic fish dishes, to more unusual Peruvian specialities are our menu everything what the heart desires.
For the small hunger, you will also find nachos, burgers and co. in our extensive snack menu.
The more than 30 different cocktails can be enjoyed during our Happy Hour from 18-23 h.
In summer, the large terrace in the Paracas I and the green courtyard in the Paracas II offer a place in the fresh air.
For the keenest four bowling alleys can be found in the basement of the Paracas II.